Relax Hotel
Let yourself be carried away from your everyday stress and treat yourself to a break. We take you on a journey into the world of relaxation and wellbeing.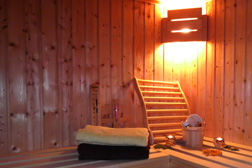 SAUNA
After an eventful day or a successful meeting, relax in our sauna and gather energy for the next day. Simply let your mind wander and bring body and soul into harmony. You will also find our sauna in the swimming pool area on the 2nd floor.
PANORAMA POOL
Stop & come to our panoramic swimming pool on the 2nd floor! Here you can free yourself from a few laps in the pleasantly tempered water and then enjoy the view of our relaxation loungers.